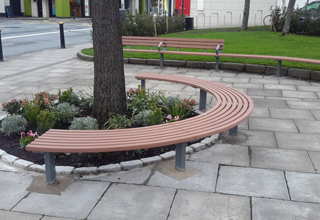 Donnybrook has come of age and is now ranked up there with the best of Dublin following the National Tidy Towns awards and then the crowning award of being voted the 'Best Urban Village in Dublin 2018' at the Dublin City Neighbourhood awards in Croke Park.
Hartecast were chosen by Dublin City Council to provide Bespoke Seating for Donnybrook Plaza which involved working to the city architects drawings and vision for the plaza, the result: curved recycled composite timber bench seating and a 12m curved seat and bench combination.
Hartecast is Ireland's leading street scene suppliers. See all projects
Location:
Donnybrook, Dublin
Client:
Dublin City Council
Client Feedback:
 Delighted with the result, we will work with Hartecast again on future projects.