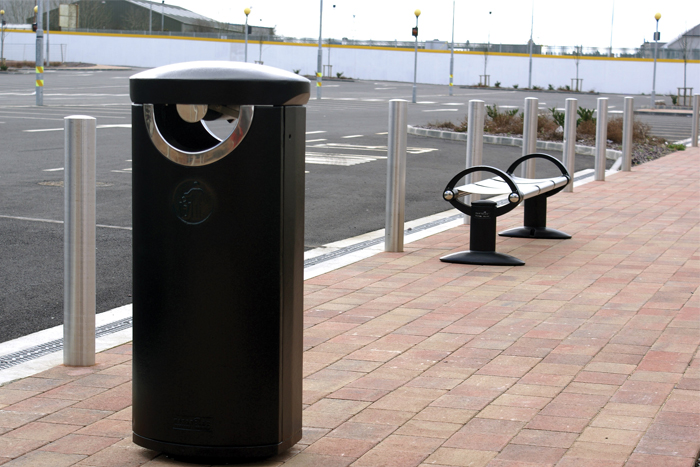 HC2055 - 100 litre Litter Bin
Manufactured from recyclable materials
Choose your colour combination
Extremely vandal and impact resistant
100 Litre capacity, semi domed top, cast ductile iron litter bin with half circle aperture.
Hartecast is Ireland's leading designer and manufacturer of street furniture. Our HC2055 street litter bins have a wide range of colour combinations for you to customise to your needs, with the option of adding your town logo. See all Hartecast Ireland litter bins
HC2055 Litter Bin

  Specifications
Semi domed top cast ductile iron bin with half circle aperture 254 x 125mm.
Elliptical in shape with 2 litter posting apertures.
100 litre capacity.
Manufactured from 12mm cast ductile iron with 316 grade stainless steel
Dimensions 1080 x 430 x 390mm.
Stainless steel aperture rim to protect paint work and prevent chipping.

Fully galvanised with powder coat finish, as we manufacture all our products in house we can arrange any colour combination you require, see our colour palette below

.
Supplied with detachable base plate both for ease of installation and removal without disturbing ground fixings.
Options Available:
Town Logo

Opening restrictors

Levelling plates

Refurbishment Service

Galvanised steel liner